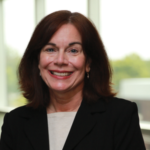 Josephine L. Emerick, P.E., St. Louis, Missouri, is the 2018 recipient of the prestigious Distinguished Service Award presented by the National Society of Professional Engineers recognizing a licensed professional engineer for exceptional contributions to the engineering profession, their community, and to the NSPE society. Since starting her career, Josephine has made headlines with her engineering work, professional activities, community service, and award-winning accomplishments. Early in her career, she emerged as an up and coming leader on high-profile projects that helped her capture NSPE's Young Engineer of the Year award.
Throughout her career, Josephine has held numerous leadership roles that always exemplified the goals and objectives of the National and Missouri Societies of Professional Engineers and her St. Louis area chapter. She has been a principled leader in professionalism, ethics, and service to the public and community. This was evidenced by two gubernatorial appointments that added up to an eight-year tenure on the Missouri Board for Architects, Professional Engineers, Professional Land Surveyors, and Professional Landscape Architects.
Josephine's commitment to the profession and her interest in protecting public health, safety, and welfare were instilled in her two children who both pursued careers in engineering. She has been a consistently strong voice and role model for young women in engineering – as evidenced by her own daughter's choice of an engineering career.
Josephine currently serves as the Vice President and Chief Operating Officer for Engineering Design Source, Inc. (EDSI), a DBE-certified civil engineering and surveying firm with over 30 engineering and surveying professionals headquartered in Chesterfield, Missouri. She continues to make her mark by embracing more opportunities to advance the engineering profession through her interactions with other engineers, the public, governmental entities, and the educational community.