Josephine (Jo) joined EDSI in 2017 and has more than 30 years of transportation-related experience including highway, transit, and airport planning and design projects in Missouri, Illinois, Kansas, and Iowa. She has worked with clients including the Missouri Department of Transportation, the Illinois Department of Transportation, the City of St. Louis, St. Louis County, St. Louis Lambert International Airport, East-West Gateway Council of Governments, Madison County, and Bi-State Development Agency, along with many municipalities.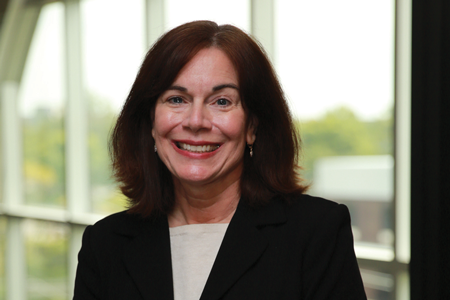 EXPERTISE/FOCUS
As the company Vice President and COO, Jo assists George with monitoring client relationships, marketing, teaming and staffing, along with serving as senior project manager for selected projects.
DEFINING CAREER MOMENT
My gubernatorial appointment to serve on the Registration Board for Architects, Professional Engineers, Professional Land Surveyors and Landscape Architects.
The mission of the Board is to "protect the inhabitants of the State of Missouri in the enjoyment of life, health, peace and safety, and to protect their property from damage or destruction through dangerous, dishonest, incompetent or unlawful architectural, professional engineering, land surveying or landscape architectural practice and generally to conserve the public welfare".  I'm proud to have participated in furthering that mission.
EDUCATION/REGISTRATIONS
B.S. Civil Engineering, University of Missouri
Registered Professional Engineer – Missouri, Illinois and Kansas
PROFESSIONAL ORGANIZATIONS & AWARDS
National Society of Professional Engineers Distinguished Service Award
ASCE Edmund Freeman Professional Recognition Award
National Society of Professional Engineers – national, state and local
American Society of Civil Engineers – national, state and local
Engineers' Club of St. Louis
American Public Works Association – national, state and local
American Consulting Engineers Council of Missouri
Institute of Transportation Engineers – local TEAM
MSPE Hall of Fame Award
ASCE St. Louis Section, Professional Recognition Award
APWA Missouri Chapter Private Practice Award
University of Missouri-Columbia, Civil Engineering Academy of Distinguished Alumni
Missouri Registration Board for Architects, Professional Engineers, Professional Land Surveyors and Landscape Architects Appointment
MSPE St. Louis Chapter Engineer of the Year
MSPE St. Louis Chapter Outstanding Engineer in Private Practice
NSPE Young Engineer of the Year